Annotation is a note added to a text. And you're an annotator. You read and write annotation every day, it patterns the warp and weft of daily life.
Welcome to #Annotate22—one year, 365 examples—a project that's part syllabus, educational mixtape, and public pedagogy.
Read January: Annotation is | February: Annotation on | March: Annotation with | April: Annotation in | May: Annotation for | July: Annotation marks | August: Annotation documents
---
June 30: Annotation by(e) Denver.
June 30 tweet | June 30 Hypothesis annotation
"whereami," a placemark added to Denver's 39th Avenue Greenway, as part of the city's recently installed "markers" project.
Goodbye, Denver, see you in a year. #Annotate22 181/365
---
June 29: Annotation by folly.
June 29 tweet | June 29 Hypothesis annotation
"Spend the new currency" sticker added to a compressed air dispenser circa 1983.
"Since early May, more than $700 billion has been wiped out in a devastating crypto crash, plunging investors into financial ruin." #Annotate22 180/365
Source: Gas station at 35th and Colorado in Denver/The New York Times.
---
June 28: Annotation by JSTOR Daily.
June 28 tweet | June 28 Hypothesis annotation
"On June 25, 1978, the ninth anniversary of the Stonewall Riot in New York City, Harvey Milk gave an impassioned speech to his fellow San Franciscans celebrating Gay Freedom Day."
As Pride Month comes to an end, and given the many challenges of the moment, June's "Annotations" entry is a must read (and thank you Liz Tracey for curating this and all the excellent posts in this series). #Annotate22 179/365
Source: JSTOR Daily.
---
June 27: Annotation by stamp.
June 27 tweet | June 27 Hypothesis annotation
OFFICIALLY WITHDRAWN
OFFICIALLY WITHDRAWN
OFFICIALLY WITHDRAWN
Stamped three times, added with certainty to a library book, slightly faded, and read as a concise description of my very long day. #Annotate22 178/365
---
June 26: Annotation by rainbow light.
June 26 tweet | June 26 Hypothesis annotation
7 years ago, June 26, 2015. Jim Obergefell said Friday: "When one right is taken away, every other right we've come to rely on in this country is at risk. It's a dark day for civil rights in our nation." #Annotate22 177/365
Source: The New York Times.
---
June 25: Annotation by The New York Times.
June 25 tweet | June 25 Hypothesis annotation
"Support for abortion is actually higher than it was a decade ago, but the partisan divide over it is growing wider." Annotation by Sheryl Gay Stolberg, part of Times' "The Dobbs v. Jackson Decision, Annotated" #Annotate22 176/365
Source: The New York Times.
---
June 24: Annotation by Breyer, Sotomayor, and Kagan.
June 24 tweet | June 24 Hypothesis annotation
"With sorrow—for this Court, but more, for the many millions of American women who have today lost a fundamental constitutional protection—we dissent." A somber, final comment added in response to today's opinion. #Annotate22 175/365
Source: Supreme Court of The United States.
---
June 23: Annotation by Alan Turing.
June 23 tweet | June 23 Hypothesis annotation
Corrections, comments, and labeled code added to "the Prof's book," a report describing the methods Alan Turing and colleagues at Bletchley Park used to break the Enigma cipher. Turing was born on this day, June 23rd, in 1912. #Annotate22 174/365
Source: The Turing Digital Archive/Internet Archive.
---
June 22: Annotation by Octavia Butler.
June 22 tweet | June 22 Hypothesis annotation
Revisions by Butler to an early draft of Kindred (working title "To Keep Thee in all Thy Ways"). This lovely Huntington Library post includes examples of her notes, drafts, and drawings. Butler was born on this day, June 22nd, in 1947. #Annotate22 173/365
Source: The Huntington Library.
---
June 21: Annotation by #craiyon.
June 21 tweet | June 21 Hypothesis annotation
The prompt "annotation" created by Craiyon "an AI model that can draw images from any text prompt." Pleased that prompts for "marginalia" and "illuminated manuscript fever dream" generated such similar images. #Annotate22 172/365
Source: Craiyon.
---
June 20: Annotation by Schwitters.
June 20 tweet | June 20 Hypothesis annotation
"Large S" numbered, dated, and signed by artist Kurt Schwitters. Schwitters was born on this day, June 20th, in 1887. His birthday is a nice occasion to consider how collage expresses the practice of annotation. #Annotate22 171/365
Source: Archives of American Art.
---
June 19: Annotation by Major General Gordon Granger.
June 19 tweet | June 19 Hypothesis annotation
Signed and stamped General Order No. 3, dated June 19th, 1865:
The people of Texas are informed that, in accordance with a proclamation from the Executive of the United States, all slaves are free. This involves an absolute equality of personal rights and rights of property between former masters and slaves, and the connection heretofore existing between them becomes that between employer and hired labor. The freedmen are advised to remain quietly at their present homes and work for wages. They are informed that they will not be allowed to collect at military posts and that they will not be supported in idleness either there or elsewhere.
#Annotate22 170/365
Source: "Juneteenth: The Celebration of a New Freedom in America" / National Archives.
---
June 18: Annotation by Dorinda Hartmann.
June 18 tweet | June 18 Hypothesis annotation
On this evening, June 18th in 1955, Surgeon General Leonard Scheele discussed the polio vaccine and its safety in a nationally televised broadcast. Last year, Hartmann–of the Library of Congress Moving Image Research Center–annotated it for #AnnotateLoC, the Speculative Annotation project from Library of Congress Labs. Today, June 18th of 2022, the CDC recommended COVID vaccines for young children. #Annotate22 169/365
Source: Speculative Annotation.
---
June 17: Annotation by Stravinsky.
June 17 tweet | June 17 Hypothesis annotation
Declaration of Intention for U.S. citizenship signed by Igor Stravinsky. In response to "I was born on__" Stravinsky notes June 18, though multiple sources (including family) confirm it was on this day, June 17, in 1882. #Annotate22 168/365
Source: National Archives.
---
June 16: Annotation by Tupac.
June 16 tweet | June 16 Hypothesis annotation
"A 1992 handwritten essay from Tupac Amaru Shakur titled 'Give me Liberty or Give me Death'" includes multiple insertions, deletions and corrections. Tupac was born on this day, June 16th, in 1971. #Annotate22 167/365
Source: MoPOP.
---
June 15: Annotation by MALDEF, the Mexican American Legal Defense and Educational Fund.
June 15 tweet | June 15 Hypothesis annotation
"Every child deserves a fair chance to learn and thrive."
This annotated timeline–with historical context, links to the legal record, and media coverage–is a must read on the 40th anniversary of Plyler v. Doe. #Annotate22 166/365
Source: MALDEF.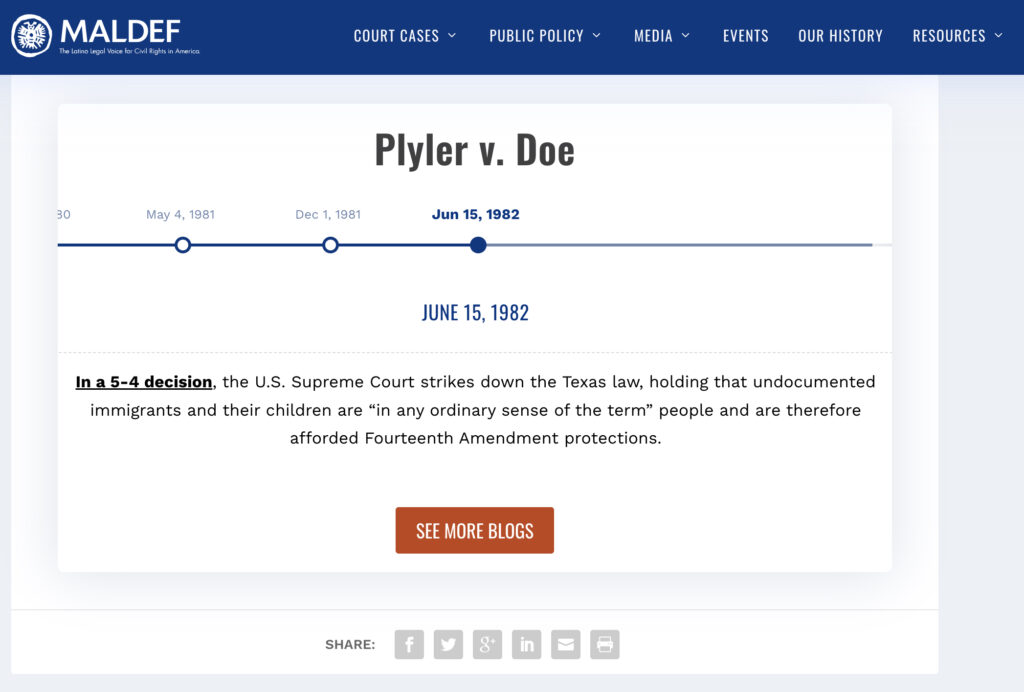 ---
June 14 tweet | June 14 Hypothesis annotation
Our family's copy of just in case you want to fly. With inscriptions by Julie Fogliano and Christian Robinson, the signed book remains one of our toddler's favorite bedtime stories years after our first read. #Annotate22 165/365
---
June 13: Annotation by W.B. Yeats.
June 13 tweet | June 13 Hypothesis annotation
"First typed copy with W.B. Yeats' corrections in his own hand." An annotated copy of Yeats' poem "Easter, 1916" about the Easter Rising against British Rule (see also April and Annotate22 entry 114). Yeats was born on this day, June 13th, in 1865. #Annotate22 164/365
Source: The Huntington Library.
---
June 12: Annotation by Anne Frank.
June 12 tweet | June 12 Hypothesis annotation
"She was incorporating various versions, which she had written at different times, in some cases in cursive and in some cases she printed it out in different inks."
Anne Frank was born on this day, June 12th, in 1929. #Annotate22 163/365
Source: Smithsonian Magazine.
---
June 11: Annotation by marcher.
June 11 tweet | June 11 Hypothesis annotation
Columbine
Red Lake H.S.
Virginia Tech
Fort Hood
Aurora
Sandy Hook
Navy Yard
Charleston
San Bernardino
Orlando
Las Vegas
Sutherland Springs
Marjory Stoneman Douglas
Annotated flag stripes. Today is #MarchForOurLives. #Annotate22 162/365
---
June 10: Annotation by E.O. Wilson.
June 10 tweet | June 10 Hypothesis annotation
"With a big smile on his face said he was not expecting to see this particular book that day. Oh boy! The occasion, he continued, deserved a special big ant. He drew the ant in the image below." The eminent biologist and author E.O. Wilson often added ants to his inscriptions when signing books. He was born on this day, June 10th, in 1929. #Annotate22 161/365
Source: Roberto A. Keller.
---
June 9: Annotation by me, parent-as-note maker.
June 9 tweet | June 9 Hypothesis annotation
"Velociraptor running in snow"
"Doctor's office with a table, toys, and a room, and a little ball"
Chronicling our toddler's everyday interests and experiences, June 9th, 2022. #Annotate22 160/365
---
June 8: Annotation by George Orwell.
June 8 tweet | June 8 Hypothesis annotation
"The document shows countless corrections and revisions in Orwell's hand. It is the only one of Orwell's literary manuscripts that survives."
Orwell's novel Nineteen Eighty-Four was published on this day, June 8th, in 1949. #Annotate22 159/365
Source: Brown University Library.
---
June 7: Annotation by Gwendolyn Brooks.
June 7 tweet | June 7 Hypothesis annotation
"For the Frazier-Ali fight, Brooks was commissioned to write a poem which appeared in the official program."
Extensive annotation and revision of the poem "Black Steel" by Pulitzer Prize-winning poet Gwendolyn Brooks who was born on this day, June 7th, in 1917. #Annotate22 158/365
Source: Gwendolyn Brooks Papers, Illinois University Library.
---
June 6: Annotation by mpelzel.
June 6 tweet | June 6 Hypothesis annotation
"This is a great description of how emergent learning can take place… the outcomes are not pre-ordained or predictable, but rather a matter of discovery and insight that comes about through 'play.'"
A 2017 Hypothesis comment by Mo Pelzel. I'm excited to chat with you and Grinnell College faculty tomorrow! #Annotate22 157/365
Source: Augmenting Human Intellect: A Conceptual Framework, via Open Learning 17.
---
June 5: Annotation by The Upshot.
June 5 tweet | June 5 Hypothesis annotation
"Mass shootings in which one of four gun policies might have had an effect are highlighted."
An analysis by The Upshot, from The New York Times, showing how "four measures could have affected shootings that killed 446″ since Columbine. #Annotate22 156/365
Source: The New York Times.
---
June 4: Annotation by the National Constitution Center.
June 4 tweet | June 4 Hypothesis annotation
"The original Constitution left voting primarily to the states. Like the 15th Amendment, the women's suffrage amendment provided Congress with a new role in enforcing voting rights—this time, to prevent gender discrimination at the ballot box."
Congress, by joint resolution, approved the women's suffrage amendment on this day, June 4th, in 1919. #Annotate22 155/365
Source: National Constitution Center/National Archives.
---
June 3: Annotation by Oskarina Fuentes Anaya.
June 3 tweet | June 3 Hypothesis annotation
"She's convinced the client wants every tree—likely thousands—to be outlined individually."
A must-read MIT Technology Review series on AI colonialism featuring this in-depth report on data labeling as exploitative labor in Latin America. #Annotate22 154/365
Source: MIT Technology Review.
---
June 2: Annotation by foot.
June 2 tweet | June 2 Hypothesis annotation
Our toddler recently celebrated his third birthday. These two footprints–added with gentle care to our Baby Book when he was but moments old–are lovely marginalia. Annotation is an everyday practice that makes memory and meaning visible. #Annotate22 153/365
---
June 1: Annotation by Gilbert Baker.
June 1 tweet | June 1 Hypothesis annotation
"Numbered 001, this Rainbow LGBT flag created by Gilbert Baker… includes the eight original colors from the 1978 San Francisco Pride Parade. The colors and their corresponding meanings are: hot pink – sex; red – life; orange – healing; yellow – sunlight; green – nature; turquoise – magic or art; indigo – serenity; and violet – spirit."
Baker gave this original, signed and numbered, hand-dyed cotton flag to President Obama on June 9th, 2016. Happy Pride! #Annotate22 152/365
Source: National Archives/Gilbert Baker.
---
A note about images:
#Annotate22 is an educational project and an act of public pedagogy. This year-long effort is comprised of blog posts, social media, and public Hypothesis annotations intended to advance new narratives about the relationship among annotation, literacy, and learning. Images are a key component of #Annotate22. The use of images follows best practices in fair use for media literacy education. Sources for all images are cited. Furthermore: a) Featured images are used for an educational purpose different than that of the original purpose, and are interpreted in an original and creative context; and b) The extent of featured images (i.e. a screenshot) is appropriate for the purposes of teaching and learning.