Annotation is a note added to a text. And you're an annotator. You read and write annotation every day, it patterns the warp and weft of daily life.
Welcome to #Annotate22—one year, 365 examples—a project that's part syllabus, educational mixtape, and public pedagogy.
Read January: Annotation is | February: Annotation on | March: Annotation with | April: Annotation in | May: Annotation for | June: Annotation by | August: Annotation documents
---
July 31: Annotation marks "The Author's Route Home."
July 31 tweet | July 31 Hypothesis annotation
A map of Primo Levi's journey from Auschwitz to Turin–indicating the direction and location–and added to translated versions of his book La Tregua (or "The Truce"/retitled "The Reawakening" in US). Primo Levi was born on this day, July 31st, in 1919. #Annotate22 212/365
---
July 30: Annotation marks backmark.
July 30 tweet | July 30 Hypothesis annotation
"Paul Pitman" and "Anna Heberling's husband" added to a cartes-de-visite backmark. Read this lovely Smithsonian Archives post about "shift[ing] our gaze to the simple beauty of the designs, known as backmarks, featured on the backs of the card mounts that conveyed information about the photographer." #Annotate22 211/365
As an aside, I do not know why my mother has this particular cartes-de-visite displayed on a bookshelf.
Source: Smithsonian Institute Archives.
---
July 29: Annotation marks bone.
July 29 tweet | July 29 Hypothesis annotation
#Annotation marks bone.
Two labels–one for a Harlan's Ground Sloth's "Elbow," and a second for a Saber-Toothed Cat's "Molar tooth"–added to photographs of Box 9 at La Brea Tar Pits Project 23. A lovely visit with the toddler yesterday. #Annotate22 210/365
Source: La Brea Tar Pits.
---
July 28: Annotation marks "being indulgent."
July 28 tweet | July 28 Hypothesis annotation
"If I'll have something that I have in a folder and I can't find a way to fit it in that isn't distracting or annoying for the reader, I'll put it in a footnote."
From a lovely 2014 Mental Floss interview with author Mary Roach. #Annotate22 209/365
Source: Mental Floss.
---
July 27: Annotation marks St Alban.
July 27 tweet | July 27 Hypothesis annotation
"Created by the renowned scribe, the Benedictine monk, Matthew Paris of St Albans Abbey in England, the manuscript chronicles the life of St Alban , the first Christian martyr in England."
The 13th century masterpiece features lovely annotation and was recently digitized by The Library of Trinity College Dublin. #Annotate22 208/365
Source: The Library of Trinity College Dublin.
---
July 26: Annotation marks #ADA32.
July 26 tweet | July 26 Hypothesis annotation
The Americans with Disabilities Act of 1990 was signed into law 32 years ago today, July 26th. The act's second page was signed by Tom Harkin, "Acting President of the Senate, pro tempore." When Harkin introduced the ADA in the Senate, part of his speech was delivered in sign language so his brother could understand. #Annotate22 207/365
---
July 25: Annotation marks Marceau.
July 25 tweet | July 25 Hypothesis annotation
"Julie," written alongside a drawing of Marceau, added to The Marcel Marceau Alphabet Book (1970). It begins: "Marcel Marceau is a sea of faces… his body bends an alphabet of spaces…" Thanks, Julie, for bending your book, too. #Annotate22 206/365
---
July 24: Annotation marks overdue notice.
July 24 tweet | July 24 Hypothesis annotation
"and life goes on"
Added to an overdue notice postcard sent on May 26, 1932 to Louis Jalen asking that the book be returned or renewed. I'm featuring this overdue notice today after not sharing an #Annotate22 post yesterday–and life goes on. #Annotate22 205/365
Source: University of Wisconsin-Madison Libraries.
---
July 23: Annotation marks "having none of this shit."
July 23 tweet | July 23 Hypothesis annotation
"go to therapy dummy"
Happy one-year anniversary to Melissa Turkington (@Leftovers_Movie) for sharing one of the best threads ever about reader marginalia, found books, and serendipity. Revisit all the glory. #Annotate22 204/365
---
July 22: Annotation marks "A mighty woman with a torch."
July 22 tweet | July 22 Hypothesis annotation
"Give me your tired, your poor,
Your huddled masses yearning to breathe free,"
From Emma Lazarus' poem "The New Colossus," added as a plaque to the Statue of Liberty pedestal. Lazarus was born on this day, July 22nd, in 1849. #Annotate22 203/365
Source: National Parks Service.
---
July 21: Annotation marks "a civic conscience."
July 21 tweet | July 21 Hypothesis annotation
A short piece titled "School" written by Ernest Hemingway, as a high school student circa 1910s, annotated and graded by his teacher. He received an A. Hemingway was born on this day, July 21st, in 1899. #Annotate22 202/365
Source: Oak Park Public Library.
---
July 20: Annotation marks a footprint.
July 20 tweet | July 20 Hypothesis annotation
"That's one small step for man, one giant leap for mankind."
Neil Armstrong and Buzz Aldrin landed the lunar module Eagle on the moon on this day, July 20th, in 1969. #Annotate22 201/365
Source: The Portal to Texas History, UNT Libraries Special Collections.
---
July 19: Annotation marks Declaration.
July 19 tweet | July 19 Hypothesis annotation
A name–"Janet Cowing"–added to "Report of the Woman's Rights Convention." This is the earliest known reproduction of the convention's Declaration of Sentiments. The Seneca Falls Convention began on this day, July 19th, in 1848. #Annotate22 200/365
Source: Seneca Falls Historical Society/New York Heritage Digital Collections.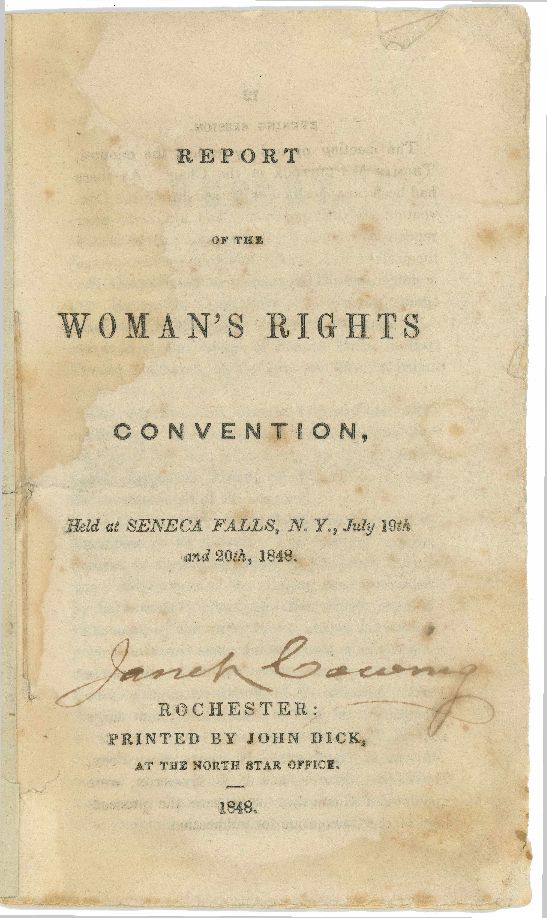 ---
July 18: Annotation marks APA-199.
July 18 tweet | July 18 Hypothesis annotation
As the 199th entry in my year-long project, I'm sharing an annotated photograph of the USS Magoffin (APA-199) with handwritten labels, abbreviations and arrows of "RADIO/RADAR ANTENNA ARRANGEMENT & RIGGING." #Annotate22 199/365
Source: National Archives.
---
July 17: Annotation marks library loan.
July 17 tweet | July 17 Hypothesis annotation
"MAY 31 2007" "DATE DUE," with fifteen stamped dates, and ending with "OCT 23 2014," added to "The Little Red Fish" by Taeeun Yoo. Tonight's bedtime read with the toddler, greatly enjoyed, and thanks to the Altadena Libraries. #Annotate22 198/365
---
July 16: Annotation marks the Crusade for Justice.
July 16 tweet | July 16 Hypothesis annotation
Annotated and original manuscript of Crusade for Justice: The Autobiography of Ida B. Wells, in Wells' own hand. Wells was born on this day, July 16th, in 1862. From DPLA's Black Women's Suffrage Collection. #Annotate22 197/365
Source: Crusade for Justice: The Autobiography of Ida B. Wells (University of Chicago Library via Digital Public Library of America).
---
July 15: Annotation marks letters at play.
July 15 tweet | July 15 Hypothesis annotation
"HI"
Child's greeting, added in pink chalk, to the playground alphabet. A welcome mark of childhood agency and creativity as the week comes to an end. #Annotate22 196/365
---
July 14: Annotation marks music.
July 14 tweet | July 14 Hypothesis annotation
"This Machine Kills Fascists"
Happy birthday Woody Guthrie, born on this day, July 14th, in 1912. #Annotate22 195/365
---
July 13: Annotation marks The Unacknowledged.
July 13 tweet | July 13 Hypothesis annotation
"After the indescribably exquisite pleasure of reading, I proceeded to cover the spaces between the lines with my own writing."
"The books came from among several which were addressed to me in prison from several sources. At the beginning such contributions were brusquely returned (see letter overleaf); afterwards they were simply left to gather dust and cobwebs in Lagos and Kaduna prison offices. Books and all forms of writing have always been objects of terror to those who seek to suppress truth."
Wole Soyinka from his 1972 book The Man Died: Prison Notes. Soyinka was born on this day, July 13th, in 1934. #Annotate22 194/365
Source: The Man Died: Prison Notes via Internet Archive.
---
July 12: Annotation marks map.
July 12 tweet | July 12 Hypothesis annotation
"with text on separate sheet"
"gift from authors 6/16/55"
"Edges of icosa triangles equal to: 63°26ʹ"
The Dymaxion Airocean World, created by R. Buckminster Fuller and Shoji Sadao. Fuller was born on this day, July 12th, in 1895. #Annotate22 193/365
Source: University of Wisconsin-Milwaukee Libraries.
---
July 11: Annotation marks sermon.
July 11 tweet | July 11 Hypothesis annotation
An annotated manuscript from 1399, "De sermone domini in monte habito (On the Sermon on the Mount)," by Augustine of Hippo. According to the Free Library of Philadelphia, "The partially cropped inscription in the upper margin of this page names the Carthusian monastery of St. Albans, near Trier." Furthermore, "This manuscript is comprised of three separate volumes bound together. The first and second volumes contain several short treatises by Augustine of Hippo. The third, in a slightly later hand, contains an anonymous exposition on the Lord's Prayer." #Annotate22 192/365
Source: Free Library of Philadelphia.
---
July 10: Annotation marks book box.
July 10 tweet | July 10 Hypothesis annotation
"BOOK," presumably written by a precocious child, added to a Little Free Library at Loma Alta Park in Altadena. Toddler and grandma loved the library's butterfly book, it was a wonderful complement to our afternoon adventures. #Annotate22 191/365
---
July 9: Annotation marks demand.
July 9 tweet | July 9 Hypothesis annotation
Annotated version of W. E. B. Du Bois' 1947 speech to the National Lawyers Guild about "civil rights legislation before and after the passage of the 14th amendment." The 14th Amendment was adopted on this day, June 9th, in 1868. #Annotate22 190/365
Source: David Graham Du Bois Trust, University of Massachusetts Amherst Libraries.
---
July 8: Annotation marks transaction.
July 8 tweet | July 8 Hypothesis annotation
The everyday business of art, as recorded–and annotated–by hand in "Notebook, 4" from the Jacques Seligmann & Co. records via the Archives of American Art at the Smithsonian Institution. #Annotate22 189/365
Source: Archives of American Art at the Smithsonian Institution.
---
July 7: Annotation marks the Pink House.
July 7 tweet | July 7 Hypothesis annotation
"As the sun bore down around 2:15 pm on Wednesday, Dale Gibson began affixing signs to the iron fence surrounding Mississippi's only abortion clinic."
"The fight is not over." "This is not the end." #Annotate22 188/365
Source: NBC News.
---
July 6: Annotation marks last communications.
July 6 tweet | July 6 Hypothesis annotation
The annotated radio log of Amelia Earhart's last communications with the US Coast Guard cutter Itasca, located near Howland Island, from July 1st and 2nd, 1937. Her last transmission at 8:43 am was underlined by the radioman Leo G. Bellarts: "Wait." #Annotate22 187/365
Source: National Archives.
---
July 5: Annotation marks "injustice and cruelty."
July 5 tweet | July 5 Hypothesis annotation
#Annotation marks "injustice and cruelty."
Annotated, typescript version of Frederick Douglass' "What to the Slave Is the Fourth of July?" Douglass delivered the speech #OTD, July 5, 1852, in Rochester, New York. #Annotate22 186/365
Source: Beinecke Library, Yale University.
---
July 4: Annotation marks tragedy.
July 4 tweet | July 4 Hypothesis annotation
Given today's tragedy, a uniquely American epidemic of gun violence that ceases to pause even during the collective celebration of independence, I'm re-upping an image from entry 162 with the unfortunate addition of Highland Park. #Annotate22 185/365
Source: Chicago Sun Times.
---
July 3: Annotation marks the "the Kafkaesque moment."
July 3 tweet | July 3 Hypothesis annotation
Franz Kafka was born on this day, July 3rd, in 1883. A letter to his father, Herman, written in 1919, includes handwritten annotations added to multiple versions, yet "The 47-page letter never reached its destination." #Annotate22 184/365.
Source: The National Library of Israel.
---
July 2: Annotation marks civil rights.
July 2 tweet | July 2 Hypothesis annotation
Signatures and smudges mark the Civil Rights Act of 1964. Signed on July 2, 1964, "The act outlawed segregation in businesses such as theaters, restaurants, and hotels. It banned discriminatory practices in employment and ended segregation in public places such as swimming pools, libraries, and public schools." #Annotate22 183/365
Source: National Archives.
---
July 1: Annotation marks family.
Visiting with my mother this summer, found and read my sister's 8th grade "Mon Album de Famille."
Annotated and accurate: "C'est mon grand frere! Il s'appelle Remi. Il a seize ans. Il est brun. Il est fort. Il est mechant de temps en temps. Il aime jouer au jogging." ["It's my big brother! His name is Remi. He is sixteen years old. He is brownhaired. He is strong. He is mean from time to time. He likes to jog."] #Annotate22 182/365
---
A note about images:
#Annotate22 is an educational project and an act of public pedagogy. This year-long effort is comprised of blog posts, social media, and public Hypothesis annotations intended to advance new narratives about the relationship among annotation, literacy, and learning. Images are a key component of #Annotate22. The use of images follows best practices in fair use for media literacy education. Sources for all images are cited. Furthermore: a) Featured images are used for an educational purpose different than that of the original purpose, and are interpreted in an original and creative context; and b) The extent of featured images (i.e. a screenshot) is appropriate for the purposes of teaching and learning.