Annotation is a note added to a text. And you're an annotator. You read and write annotation every day, it patterns the warp and weft of daily life.
Welcome to #Annotate22—one year, 365 examples—a project that's part syllabus, educational mixtape, and public pedagogy.
Read January: Annotation is | February: Annotation on | March: Annotation with | May: Annotation for | June: Annotation by | July: Annotation marks | August: Annotation documents
---
April 30: Annotation in rhetorical analysis.
April 30 tweet | April 30 Hypothesis annotation
"Repetition and 'they-you' framing are tools commonly used by populist and authoritarian leaders."
A New York Times analysis of Tucker Carlson's rhetoric on the ruling class, replacement through immigration, shifting gender roles, discrimination against white people, and the destruction of society. #Annotate22 120/365
Source: The New York Times.
---
April 29: Annotation in tempo.
April 29 tweet | April 29 Hypothesis annotation
The 1935 annotated score of Duke Ellington's "Reminiscing in tempo," composed as a tribute to his mother (and yes, I certainly noticed how the score was labeled). The eminent composer and band leader was born on this day, April 29th, in 1899. #Annotate22 119/365
Source: Duke Ellington Collection, National Museum of American History.
---
April 28: Annotation in graduation.
April 28 tweet | April 28 Hypothesis annotation
"They threaten to take away your degree and kick you out of the university / Students are afraid to be who they are / So they hide out of fear until they get out / I will not hide / I will be seen / In front of the entire school"
A pride flag sewn into Jillian Orr's graduation gown. Congratulations, Jillian! #Annotate22 118/365
Source: @Jillianoreo.
---
April 27: Annotation in time.
April 27 tweet | April 27 Hypothesis annotation
"There is no human invention more ancient, or more interesting, than that of the sun-dial."
The opening note of Margaret Gatty's 1872 The Book of Sun-Dials. And one mark and measure of time from yesterday's visit to the Denver Botanic Gardens. #Annotate22 117/365
Source: The Book of Sun-Dials.
---
April 26: Annotation in AI Dreams.
April 26 tweet | April 26 Hypothesis annotation
Examples of AI-generated art using the prompts "annotation," "marginalia," "note added to text," and "annotated book." Created for today's #ds106 @ds106dc #tdc3757 via WOMBO's Dream application, and as organized by Kevin Hodgson (thanks Kevin!). #Annotate22 116/365
Source: DS106 Daily Create.
---
April 25: Annotation in motion.
April 25 tweet | April 25 Hypothesis annotation
Stamped passport showing the Queen of Jazz's travels in Argentina, Australia, Brazil, Britain, Bulgaria, France, Germany, Israel, Italy, Netherlands, Switzerland, and Yugoslavia. Ella Fitzgerald was born on this day, April 25th, in 1917. #Annotate22 115/365
Source: National Museum of American History, Smithsonian Institution.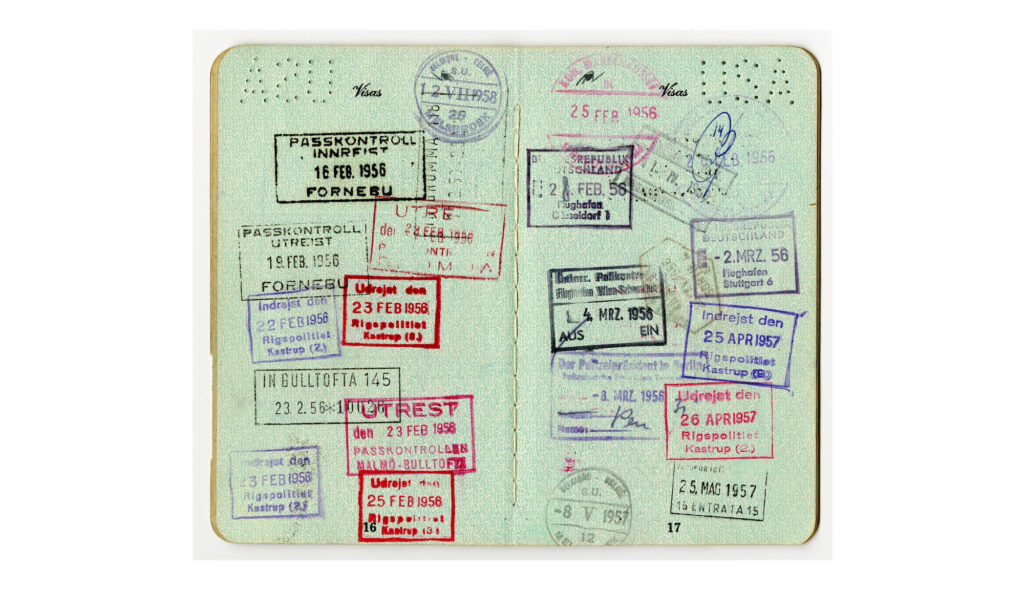 ---
April 24: Annotation in proclamation.
April 24 tweet | April 24 Hypothesis annotation
"In the name of God and of the dead generations from which she receives her old tradition of nationhood, Ireland, through us, summons her children to her flag and strikes for her freedom."
The Proclamation of the Republic was read on this day, April 24th, in 1916 by Patrick Pearse in front of the General Post Office in Dublin during the Easter Rising. The copy pictured below was signed in the 1930s by printer Christopher Brady and compositors Michael Molloy and Liam Ó Briain. #Annotate22 114/365
Source: National Museum of Ireland.
---
April 23: Annotation in vinyl.
April 23 tweet | April 23 Hypothesis annotation
"Thy word is true from the beginning, and every one of Thy righteous judgments endureth for ever."
Psalm 119:160 and a tree engraved in Jon Batiste's Hollywood Africans (and congrats, Jon, on your recent Grammy awards!). It's #RecordStoreDay shop local! #Annotate22 113/365
---
April 22: Annotation in red.
April 22 tweet | April 22 Hypothesis annotation
"No Plan B"
Because "There is No Planet B"
Today is #EarthDay. #Annotate22 112/365
---
April 21: Annotation in the woods.
April 21 tweet | April 21 Hypothesis annotation
"An 1861 note tells how Congress extinguished the Indian title to the land that became Muir Woods, and an 1869 note mentions how John Muir – the famous naturalist for whom the park is named – included racist language in writings about indigenous people."
Muir was born on this day, April 21, in 1838. His legacy requires a more complete and contextual assessment, and this project–between Muir Woods staff members and the Golden Gate National Recreation Area–is an important model of annotation helping to publicly correct the historical record. #Annotate22 111/365
Source: SFGATE.
---
April 20: Annotation in Theatrum Botanicum.
April 20 tweet | April 20 Hypothesis annotation
"1. Cannabis spuria prima. The first bastard Hempe. 3. Cannabis spuria tertia. The third bastard Hempe."
Captions in John Parkinson's Theatrum Botanicum published in 1640. Happy #420day from Denver, legalize weed nationwide. #Annotate22 110/365
Source: Theatrum Botanicum.
---
April 19: Annotation in Wordle.
April 19 tweet | April 19 Hypothesis annotation
Max streak of 95 ended this morning, I should have eliminated more consonants earlier. My Wordle guess distribution over the past 95 days:
1–0
2–2
3–21
4–44
5–23
6–7
It's been a fun morning routine, time to step away from this puzzle. #Annotate22 109/365
---
April 18: Annotation in seismograph needle tracing.
April 18 tweet | April 18 Hypothesis annotation
"The drawing represents the vibration of the north and south pendulum of the seismograph during the time of the most intense activity, beginning in San Francisco at 5:13 A.M."
The 1906 San Francisco earthquake struck on this day, April 18th, 116 years ago. #Annotate22 108/365
Source: The New York Times.
---
April 17: Annotation in oikoumene.
April 17 tweet | April 17 Hypothesis annotation
"To the left is the Greek word 'oikoumene'–the place inhabited by God's presence and healing."
Danté Stewart's essay about James Baldwin, love, faith and Easter references a 1968 annotated guest name badge. #Annotate22 107/365
Source: CNN.
---
April 16: Annotation in rhythm.
April 16 tweet | April 16 Hypothesis annotation
"I have a couple more records got the same break up in it, I wonder how it would be if I put them all together. And I told them, 'I'm gonna try something new tonight I'll call it the merry-go-round.'" Happy birthday DJ Kool Herc, born on this day, April 16, 1955. #Annotate22 106/365
Source: Open Culture.
---
April 15: Annotation in Dodger Blue.
April 15 tweet | April 15 Hypothesis annotation
From Major League Baseball: "For the 75th anniversary of Jackie Robinson breaking the color barrier, all players will wear a Dodger blue 42 on the backs of their jerseys on April 15th." Today, April 15th, is Jackie Robinson Day. #Jackie42 #Annotate22 105/365
Source: ESPN.
---
April 14: Annotation in American Gods.
April 14 tweet | April 14 Hypothesis annotation
"I just love the idea of annotating the cover."
Happy book birthday to Neil Gaiman's The Annotated American Gods, published two-years ago today, April 14th, 2020. #Annotate22 104/365
Source: "Neil Gaiman and Leslie S. Klinger in Conversation about The Annotated American Gods."
---
April 13: Annotation in oversight.
April 13 tweet | April 13 Hypothesis annotation
Redaction in the Privacy and Civil Liberties Oversight Board's review of "counterterrorism-related intelligence activities" via CIA bulk surveillance. US Senators Ron Wyden and Martin Heinrich requested the declassified report one year ago today, on April 13, 2021. #Annotate22 103/365
Source: PCLOB.
---
April 12: Annotation in banned books.
April 12 tweet | April 12 Hypothesis annotation
Today is Drop Everything and Read a Banned Book Day #FReadom @FReadomFighters. Read banned books and also the American Library Association's State of America's Libraries Special Report: Pandemic Year Two: "But we know that banning books won't make these realities and lived experiences disappear, nor will it erase our nation's struggles to realize true equity, diversity, and inclusion." #UniteAgainstBookBans #Annotate22 102/365
Source: American Library Association.
---
April 11: Annotation in tonight's bedtime story.
April 11 tweet | April 11 Hypothesis annotation
Thanks to Eva's deft annotation, Sam's giant piano became confetti and tickled Marmot and her friend. From the lovely book Sam & Eva, by Debbie Ridpath Ohi (@inkyelbows) which I read to our toddler for bedtime tonight. #Annotate22 101/365
Source: Debbie Ridpath Ohi.
---
April 10: Annotation in A Great Intimate Unmistakable More.
April 10 tweet | April 10 Hypothesis annotation
From Mark Sample's "procedurally-generated erasure of The Great Gatsby" created using "a tweaked version of @lizadaly's black/erasure program." The Great Gatsby was published on this day, April 10, in 1925. #Annotate22 100/365
Source: Mark Sample.
---
April 9: Annotation in Les Fleurs du mal.
April 9 tweet | April 9 Hypothesis annotation
"We see on the pages of this collection an extremely scrupulous Baudelaire annotating in a very meticulous, even sometimes fastidious way."
Charles Baudelaire was born on this day, April 9, in 1821. #Annotate22 99/365
Source: France Culture.
---
April 8: Annotation in the record book and parking lot.
April 8 tweet | April 8 Hypothesis annotation
A monument commemorating Hank Aaron's historic 715th home run, hit #OTD in 1974, includes an original section of the stadium's outfield wall and a marker designating the landing point. #Annotate22 98/365
Source: Clio.
---
April 7: Annotation in Black and White.
April 7 tweet | April 7 Hypothesis annotation
Congratulations to Justice Jackson. Ketanji Brown Jackson has been confirmed by the Senate 53-47 as Associate Justice of the Supreme Court of the United States, the first Black female justice in the court's history. #Annotate22 97/365
Source: Vox.
---
April 6: Annotation in Annotation.
April 6 tweet | April 6 Hypothesis annotation
"Annotation is written within the warp and weft of our texts, patterning the fabric of daily life."
My book Annotation, written with Antero Garcia and published by The MIT Press, is one year old today! Celebrating with some reader marginalia (thank you!) and re-upping a Commonplace essay about sparking our #AnnoConvo. #Annotate22 96/365
---
April 5: Annotation in stereograph.
April 5 tweet | April 5 Hypothesis annotation
"Booker T. Washington, President of the Negro Industrial School, Tuskegee, Alabama."
Textual description of an outdoor scene added to two identical albumen photographs in an 1899 stereograph. Washington was born on this day, April 5th, in 1856. #Annotate22 95/365
Source: Smithsonian National Museum of African American History and Culture.
---
April 4: Annotation in memoriam.
April 4 tweet | April 4 Hypothesis annotation
"The edges of the Stone of Hope and the Mountain of Despair incorporate scrape marks to symbolize the struggle and movement, as well as an engraving of the words 'Out of the mountain of despair, a stone of hope.'" #Annotate22 94/365
Source: National Park Service.
---
April 3: Annotation in song and solidarity.
April 3 tweet | April 3 Hypothesis annotation
"Our musicians wear body armor instead of tuxedos. They sing to the wounded in hospitals."
Ukrainian President Volodymyr Zelenskyy's prerecorded commentary on freedom, silence, and music in the 64th Annual Grammy Awards. #Annotate22 93/365
Source: The Hollywood Reporter.
---
April 2: Annotation in NLRB Tally of Ballots.
April 2 tweet | April 2 Hypothesis annotation
"The challenged ballots are not determinative. A majority of the valid votes counted has been cast for the Petitioner, the Amazon Labor Union." Yesterday, on April 1st, workers of JFK8 voted 2,654 to 2,131 for unionization. #Annotate22 92/365
Source: National Labor Relations Board.
---
April 1: Annotation in poetry.
April 1 tweet | April 1 Hypothesis annotation
Brackets added to Phillis Wheatley's "On Virtue" from a 1773 first edition of her book Poems on various subjects, religious and moral.
"Attend me, Virtue, thro' my youthful years!
O leave me not to the false joys of time!
But guide my steps to endless life and bliss."
Today, April 1st, is the beginning of National Poetry Month organized by the Academy of American Poets. #Annotate22 91/365
---
A note about images:
#Annotate22 is an educational project and an act of public pedagogy. This year-long effort is comprised of blog posts, social media, and public Hypothesis annotations intended to advance new narratives about the relationship among annotation, literacy, and learning. Images are a key component of #Annotate22. The use of images follows best practices in fair use for media literacy education. Sources for all images are cited. Furthermore: a) Featured images are used for an educational purpose different than that of the original purpose, and are interpreted in an original and creative context; and b) The extent of featured images (i.e. a screenshot) is appropriate for the purposes of teaching and learning.